Employers have an obligation to provide their employees with a safe environment in which to perform their jobs. In late 2016, the Bureau of Labor Statistics (BLS) noted private employers reported "2.9 million nonfatal workplace injuries and illnesses ... in 2015, which occurred at a rate of 3.0 cases per 100 equivalent full-time workers." This marks a continued decline in workplace injuries, but accidents occur all-too-often - even at sites where stringent safety precautions are followed.
Common Workplace Injuries
The most common types of workplace injuries are overexertion, falling, and getting struck by things.
Eye Safety
Eye safety is an important concern in the modern workplace.
Industrial and Construction Safety
Safety is of a particular concern in industrial settings and job sites where construction work is performed, as they can be particularly hazardous.
Office Safety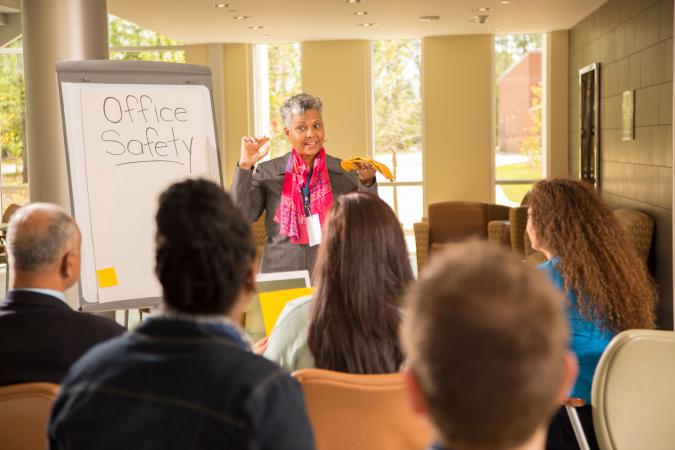 Even though offices may seem safer at first glance than many other work environments, they are not without risk.
Ergonomics Considerations
Ergonomics considerations in all kinds of work environments can lead to injuries that are debilitating to workers and costly to employers.
Substance Abuse and Workplace Safety
Substance abuse can have a significant impact on workplace safety.
Workplace Violence
Workplace violence is a serious safety concern that occurs far too often.
Workplace Fatalities
Far too many workplace safety problems result in fatalities.
Improving Workplace Safety
In light of these somewhat frightening facts and figures, it's easy to argue in favor of taking steps to improve workplace safety.
Education Is Key
Educating yourself about the very real risks that exist in the workplace is critical to staying safe. By being aware of key facts and statistics about occupational safety, you stay safe in your pursuit of earning a living. It's always better to be safe than sorry. If you see something that seems unsafe, immediately take steps to protect yourself and those around you and report the issue appropriately using your company's safety policy.